Welcome To NIR WPC
Home Page for the Northern Illinois Region of the WPC Club Inc.
MEETING INFORMATION
Meeting Dates 3rd WEDNESDAY OF EVERY MONTH
MEETING TIME 7:30 PM
Prospective Members and guests are always welcome
MEETING LOCATION
CHRYSLER MIDWEST BUSINESS CENTER
901 WARRENVILLE ROAD
LISLE, ILLINOIS (5th FLOOR)
(except August Un-Pizza Night and December Christmas Party)
Join Us in Springfield IL!
Join Us in Springfield Illinois
July 21 - 25, 2015!
The 46th Annual National Meet, MOPARS IN LINCOLNLAND, will be held in Springfield, Illinois, the home of our 16th President Abraham Lincoln, the Illinois state capital, and historic Route 66, the first paved two lane road stretching west from Chicago to Los Angeles. A visit to Springfield is a step back in time – to the days when Abraham Lincoln lived here, where he raised his children, and where he was laid to rest at the end of his life. Major attractions include Abraham Lincoln's Presidential Museum, Lincoln's home, Lincoln's tomb, New Salem, the Old State Capitol, Frank Lloyd Wright's premier Dana Thomas home, and several other museums and war memorials. Springfield also offers a wide variety of shopping, several golf courses, Lake Springfield, and close proximity to other Route 66 sites including the Route 66 Museum in Pontiac, Illinois. Springfield is a very popular destination for car enthusiasts due to Route 66 and related historic sites as well as its small town old car friendly atmosphere with minimal congestion and easy travel to a wide variety of interesting sites.
Our host hotel will be the Crowne Plaza in Springfield which is conveniently located off Interstate 55 and within 5 miles of most major attractions. The hotel has been recently renovated and contains several informal seating sections throughout the public areas for catching up with other members. The Crown Plaza has a parking area with over 300 spaces reserved for our use during the week and for our Saturday show. Restaurants include the Rosewood Dining Room as well as the Mahogany Bar and Grill. The hotel is also surrounded by several family and fast food restaurants within easy walking or driving distance. We will have use of a large hospitality room on the 12th floor for the entire week that provides a great view of the city. The room rate is $109 per night plus 12% for state and local taxes for a King or 2 – Double Bed rooms. The Reservation Window is Now Open. Attendees should call either 1-877-270-1393 or 1-217-529-7777 to make their reservation within the room block. They should simply reference Walter P. Chrysler Restorers Club to receive the discounted rate.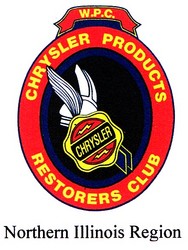 Visit us on Facebook!